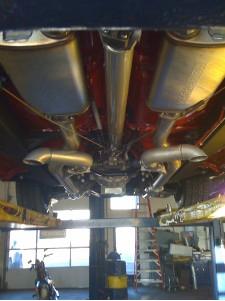 Collins Automotive in Loveland specializes in every aspect of exhaust systems.
We specialize in custom tips, custom headers, oem exhaust systems, exhaust kits, and custom exhaust. If your car or truck is in need of exhaust repair or replacement bring it to Loveland's exhaust specialist – Collins Automotive and Metalworks.
Proper and custom exhaust is important because it can help with more power, better mileage, and a cooler running engine. Collins Automotive specializes in stock and performance mufflers and exhaust systems for import, domestic, classic, SUV's, diesel, RV's, and trucks.
If your car needs specialized exhaust or a standard exhaust replacement please call Collins Automotive at (970)669-2515.