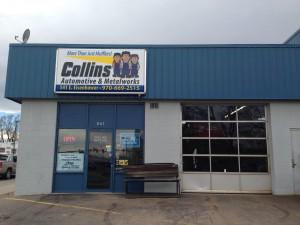 Collins Automotive & Metalworks was founded in 1958 as "Collins Muffler Shop" in Loveland, CO. At that time, the site was a Standard Oil gas station owned and managed by father and son duo Joseph and James Anstett. Joe and Jim decided to open a second shop in fort Collins in 1959 that focused primarily on shocks and mufflers hence the name "Collins". Collins Muffler was the only muffler shop between Denver and Canada. Customers came from Montana, Wyoming, and Idaho to receive a quality muffler, great shocks, and superior service.
In 1969 Bruce Starck, who had a lifetime passion for cars, became part of the Collins Muffler Shop team and eventually became a partner with Jim Anstett. Several years later in 1983 Bruce's son Scott Starck followed in his dad's footsteps and joined the team. Jim gave Scott the opportunity to partner with his dad in 1992 and keep the business a father and son operation.
The family atmosphere, along with their longstanding reputation for being honest and fair, made Collins Muffler Shop grow to be known as the "go to" shop for all exhaust needs. The family has always followed the Golden Rule: treat customers the way you want to be treated.
Collins Muffler Shop is now a complete automotive repair and metal fabrication business and we changed our name to Collins Automotive & Metalworks.
Master mechanic Scott Starck and his team continue the tradition of honest reliable auto repairs and now welding projects with incredible customer service and delighted customers in Loveland, Colorado – Larimer County – and all of Northern Colorado.